Grain processing is performed by LLC "VOLYN-ZERNO-PRODUCT," industrial complex of which includes the following:
Two mills of Turkish manufacturer HURMAK Compact 2002, intended for grinding wheat to bakery flour. The construction of mills includes the latest advances in the field of flour machinery. It is a module placed on frames at one floor (unit of preparation of grain for grinding and grinding unit).  Dual stage cleaning is performed   first is wetting of grain, second is after it. Time of wetting is 4 hours. Performance of processing of one set is 60 tons of grains per day.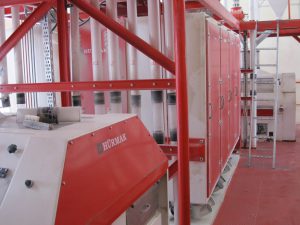 The mill for processing of rye with the capacity of 25 tons per day (including further purification of grain and grinding).
New equipment of Ukrainian and foreign manufacturers for the production of animal feed, where the manufacturing process is controlled with special program that eliminates the deviation from the recipe. Factory line involves two stages in the production of animal feed: 1) production of protein-vitamin mineral supplements; 2) production of animal feed. This feature of technological line allows the production both as full range of animal feed and premixes enriched with protein – the so-called 25% -30% of concentrates to a certain group of cereals (available on the farm) and for certain groups of animals.
The company can fulfill individual orders for the production of feed for pigs of different sex and age groups, and for the cattle (dairy herd, rearing and fattening), make calculation of recipes with the consent of the customer, with the possible inclusion of different enzyme and therapeutic drugs (anti-helmintic agents, antibiotics, probiotics). Line capacity is the production of animal feed of 5 tn/h, it is possible to perform the animal feed packaging to the sacks.
Use of scientific approaches towards the use of materials in the creation of fodder to accommodate aspects of improvement of health, to achieve high rates of productivity of livestock, to reduce manufacturing costs per unit of livestock.
Line of cereal production with the capacity of 1 ton/hour, which produces the following types of cereals:
Peas polished chipped grade No.1, No. 2
Peas hulling bran
Broken wheat of soft grades No.1, No. 2, No.3
Wheat semolina
Wheat hulling bran
Broken wheat of hard grades No.1, No. 2, No.3
Hard wheat semolina
Hard wheat hulling bran
Broken barley No.1, No. 2, No.3
Barley semolina
Barley hulling bran
Peeled barley No.1, No. 2
Corn No.1, No. 2, No.3, No.4
Corn hulling bran
Grains.