Livestock industry is divided into two areas – milk and meat. Dairy is developed in agricultural company LLC "Volyn Nova", meat – in LLC "V.Prometey".
In dairy the medium annual yield is about 8,000 liters of milk per cow in the stock of 700 cows. There is used the selection material of the best breed of German companies. Modern dairy complex for 1200 cows of American type is at the designing stage.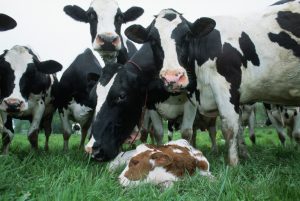 The main objectives of dairy farming are:
●    Milk production of the highest quality and extra class;
●    Average yield is at least 10,000 liters per cow;
●    Sale of heifers of Holstein breed at least 100 heads per year.
Meat selection is based on two main directions – two main breeds – Aberdeen Angus (black) and Limousin based on meat complex of Volyn. In 2015 the number of cattle for meat selection was 500. Within 6-8 months a year all beef cattle is kept on natural grazing, and feeding and rearing is held to productive performance in winter in a modern complex.
The main objectives of the field of cattle breeding are:
●    get the 1,000 livestock of beef cows in 2019;
●    get 4,000 centers of meat per year;
Sale of heifers at least 100 head annually.